Pests, Diseases and Other Problems with Laurel Hedge Plants
Laurel hedging plants tend not to be susceptible to pests and diseases, particularly once established. Occasionally pests and diseases do occur but they are rarely serious and do not warrant intervention with chemicals or sprays, the hedge will normally recover naturally.
Leaf drop
Newly planted Laurel hedge plants (bare roots in particular but sometimes root ball plants as well) can drop some or all of their leaves after planting. (Often, they will turn yellow first before dropping) This is most common if the weather is very harsh during winter or turns very warm quickly in the spring especially when the hedge is planted late in the season. Leaf loss is a stress response to conserve water.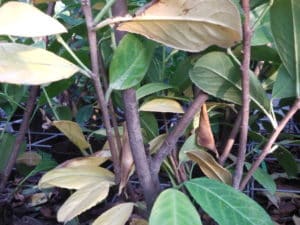 If the new plants are kept well-watered and have been planted in suitably prepared soil they should re leaf later on – during late Spring or early Summer once the roots have become established. Leaf drop can be minimised by good soil preparation, sufficient watering after planting, mulching and using Rootgrow when planting as this will help the new root system to establish much more quickly.
Bay Laurel and Spotted Laurel hedge plants are always pot grown and do not normally suffer from leaf drop.
Frost damage
Laurel hedge plants can suffer from frost damage in Autumn, winter or Spring.
Damage in the Autumn is often caused by sharp early frosts and is limited to soft late season growth which turns black and shrivelled. It is a good idea to cut off any affected shoots back to clear healthy wood as this will prevent fungal diseases from taking hold through the frost damaged tissue. Young Cherry Laurel plants are most commonly affected.
Frost damage during the winter months can cause brown patches on established Laurels of all types and is usually at its worst when there is a very cold wind with no protective cover of snow to protect the winter foliage. Affected hedging plants can look rather unsightly until a new flush of growth appears in late Spring by which time the brown leaves will usually have moulted.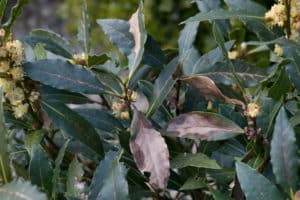 Frost damage in the Spring almost always affects the soft vulnerable new growth as it emerges. The affected shoots will wither and turn black very quickly, while this can look unsightly there should be no lasting harm as the days are getting longer and the weather getting warmer meaning the plants should make a new flush of growth fairly quickly.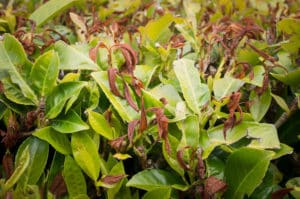 Powdery Mildew
This is a fungal disease that appears as a white powdery coating on the leaf surface of the younger growth at first. As the fungus develops the underlying leaf tissue will turn brown and die and the young leaves can often be left with holes, brown patches and 'tatty' edges to them. The symptoms of mildew can make Laurel hedge plants look more like they have been attacked by insects rather than a fungus.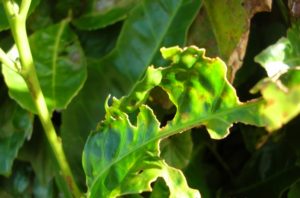 Powdery mildew can often develop due to weather conditions, while it can make the plants look scrappy and unsightly it is not serious and when environmental conditions change the plants will grow out of it.
The Laurel hedge plants can be trimmed, removing the affected leaves, or you could treat the plants with a mildew fungicide, in all honesty neither is necessary as the plants will recover on their own.
Shot Hole
Shot hole is a disease that can occur on Cherry Laurel hedge plants, different types of the disease can be caused by bacteria or fungi. It can be identified by the brown spots that appear on the leaf surface, as the plant brings the disease under control the diseased and healthy parts of the leaf separate and the diseased part drops out leaving round holes in the leaves.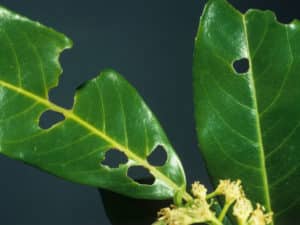 Laurels affected by bacterial shot hole often have a yellowish halo around the holes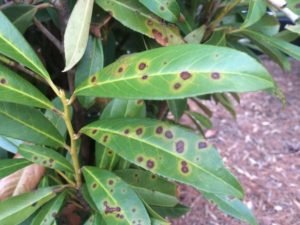 Both types of shot hole are spread by warm and wet conditions during the growing season and most commonly affect younger plants. When environmental conditions improve, and as the Laurel plants get older they will almost always recover without the need for any kind of chemical treatment.
If your hedge does show signs of shot hole it is worth regularly sterilising tools when trimming the hedge to limit any potential spread, also do avoid composting any affected hedge cuttings to stop a potential cycle of infection in the garden.